A photo of the flag of the province of Quebec floating over the Parliament Building in Quebec City. Français : Une photo du drapeau du Québec flottant au-dessus de l'Hôtel du Parlement du Québec à Québec. (Photo credit: Wikipedia)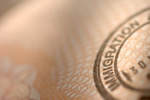 As reported by the Associated Press, thousands Chinese people on the mainland are learning French to leave the country. Those desperate to emigrate have found a backdoor method into Canada which involves applying for visas into the francophone province of Quebec – so long as they demonstrate a working knowledge of French.
Although French classes are becoming less popular in many parts of the globe and Mandarin lessons are proliferating due to China's international rise, many Chinese are studiously learning how to speak French.
Yin Shanshan, who takes French class in the port city of Tianjin, says she is also being taught Quebec's history and geography -- even the names of Montreal's suburbs. The 25-year-old says she enjoys her classes and can already say many survival phrases.
Despite China's rising prosperity and political clout, many of its citizens are still eager to emigrate in order to provide better educational prospects to their children and flee the country's long-standing issues, including pollution and contaminated food.
Quebec selects its own immigrants and does not impose any quota or backlog of applicants like the Canadian national programme. However, it requires immigrants to demonstrate a working knowledge of French.
Immigration firms in Beijing began pushing this programme over the past year, saying language courses are the only way out, said Joyce Li, who is a Quebec-based immigration consultant.
Applicants must commit to residing in Quebec, but, later on, they may take advantage of Canadian privileges to move to Vancouver or Toronto, which the majority of investor-emigrants do, she added.