A maple leaf painted on a sidewalk using a stencil. (Photo credit: Wikipedia)
In a related development, the Immigration Consultants of Canada Regulatory Council (
ICCRC
) moved to address a persistent critique of
Canada's Bill C-35 legislation
(now the
Immigration and Refugee Protection Act
) by introducing a new professional designation that would permit international student advisors based at Canadian institutions to once again provide guidance to students regarding immigration issues. The new designation was formally approved at the council's annual general meeting in Toronto yesterday.
Students migrating to Canada
Echoing an important observation from our recent report on
Canadian enrolment trends
, CIC officials affirmed that the number of former international students choosing to immigrate to Canada continues to increase.
They advised as well that former international students primarily immigrate to Canada via the following five programmes:
Of these, CIC notes that for 2013, "Post-Graduation Work Permit holders who transitioned to permanent residence were most likely to do so through the Provincial Nominee Program."
In a related development, in January 2015 CIC will launch a new electronic system called
Express Entry
to streamline permanent residency applications under the following programmes:
Skilled Worker Program;
Skilled Trades Program;
Canadian Experience Class.
In effect, Express Entry will become a required pre-application stage for these programmes, with the goal of creating a pool of pre-qualified applicants for permanent residency. Any prospective immigrant registered in the system could receive an invitation to apply for permanent residency in Canada, and Canadian provinces and territories will also be able to select candidates from the Express Entry pool under the Provincial Nominee Program and to meet local labour market needs.
Service improvements in 2014
CIC reports that processing times for online visa applications have declined over the past two years (from an average of 28 days as of September 2012 to 20 days as of October 2014), and that acceptance rates remain high. 82% of all study permit applications for Canada were approved in 2012, and, as the following table reflects, the acceptance rates for the top 10 source countries were at that level or higher in all cases except for India.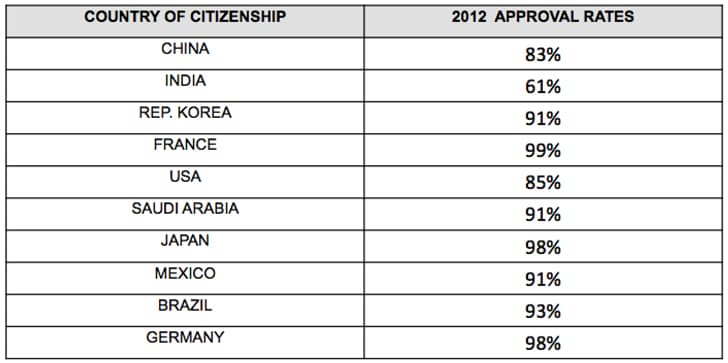 Acceptance rates for study permit applications from top source countries, 2012. Source: CIC
Along with an increasing emphasis on online applications and services, CIC aims to expand on this performance with a number of new service improvements introduced in 2014. Perhaps most notably, Canada has dramatically expanded the reach of its Visa Application Centres (
VACs
) this year, from a network of 60 sites in 2012 to 130 centres in 99 countries currently. Visa application centres provide services in local languages and accept applications for study permits, work permits, and visitor visas.
Source: http://monitor.icef.com/2014/12/canadian-immigration-reforms-continue-new-credential-introduced-international-student-advisors/